I have taken a few days off posting here, as a little break from the old computer screen was required following the last big push for the end of the 30DC. I needed to unplug, unwind, recharge. This does not mean that art has taken a back seat… oh no! When I feel the need to unwind and recharge, it is often a gallery that best enables me to do this.
On Saturday, I revisited Yayoi Kusama at Tate Modern. Only recently have I been taking the time to visit exhibitions again on a regular basis. I cannot remember the last time I had the luxury of re-visiting a show, but doing so with Kusama was worthwhile indeed. A month or two after my first visit, having now spent four weeks focusing on my own art, I was viewing with fresh eyes. Artist's eyes. By the second room, I wanted to go home immediately and start making drawing, painting, layering. I was looking differently, seeing new things. Ideas and techniques popped out at me and I also noticed on second viewing how some of the pieces I have created over the last few weeks may have been (subconsciously) influenced by my first viewing of the show, or at least I was able to see connections… the manipulated self-portraits, collaged and layered works. I felt slightly odd about this, but the exhibition I saw on Monday removed any such feelings of embarrassment at having been inadvertently influenced by another artist.
Bank Holiday Monday began slowly at Dishoom near Leicester Square. Here, I started the day with the most delicious breakfast of granola and chai and drew (without looking at the paper) the table settings in front of me, pencil in hand, finished with pen.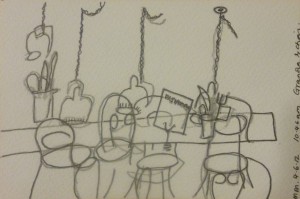 I had half an hour to spare before meeting a friend to view the Turner exhibition at National Gallery and the friendly staff, speedy service and wonderful environment was the perfect start the morning with a sketch and a smile.
Turner Inspired: In the Light of Claude set the paintings of Turner (1775 – 1851) alongside those of Claude Lorrain (1604/5? – 1682), by whom he was greatly influenced (some say obsessed). Turner borrowed, or perhaps we should say copied (both the sketchbook and painted evidence forms the basis of the show) elements of composition as well as his treatment of light as subject from Claude. The Turners on show were not the works that immediately spring to mind when one thinks of the artist, but for a viewer, like myself, not at all familiar with Claude (and I was not the only one… indeed one lady on booking a ticket asked if the Claude referred to Monet!), this was an opportunity to experience the work of an artist previously unknown to me and discover how he had inspired one of Britain's best-loved English Romantic painters.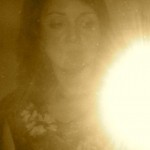 At home, in response, I manipulated a self-portrait taken the previous night. The flash in the mirror suggested the sun of Turner's paintings, so with a little adjustment in iPhoto, I attempted to highlight something of the glow reflected. Perhaps I will work further on this at a later date and add paint to the picture with Turner in mind.
Whilst I enjoyed the Turner exhibition, perhaps more engaging for me as the subject is one very close to my heart, was Jo Rhymer's lunchtime talk Transforming the Thames. With the Jubilee River Pageant in mind, she took Canaletto's painted celebration of The Thames on Lord Mayor's Day as a starting point, Rhymer went on to explore how artists such as Turner, Monet, Sisley and Whistler took inspiration from river to create paintings that portrayed life beyond ordinary observations of the Thames. I was captivated by stories of Frost Fairs on the Thames which were illustrated by Luke Clenell's images; moved by Rhymer's reading from Whistler's Ten o'clock lecture and delighted to be reminded of Alvin Langdon Coburn's atmospheric photographs of London from c.1900-1909.
At home, I looked back on some of my own photographs of the river of which I am so fond and resolved to return soon at dawn or dusk and try to further capture something of whatever it is that draws me back again and again.