"Julia helped me find freedom in my painting, standing up to paint immediately gave me a different perspective, feeling free to play and use hands, forks, brushes, plastic was so enjoyable and the most valuable part of the process for me was to not worry about the outcome; to just see what happens. I found more pleasure in painting in that 2 hour session than I have for years. Thank you Julia."
Karen Wilson on her experience of a one to one painting session to Free the Artist Within.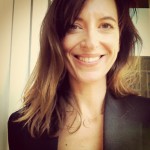 "The minute you will get to work with Julia, you will experience her inner joy, love and beauty. These qualities shine through in whatever she does: her inspirational guidance, her art, her writing and her videos. Julia knows on a deep level the relevance of appreciating life and sharing joy. I feel very grateful and extremely fortunate to have the continuous support of this talented soul. On days, when I feel doubts and fears coming up, she always helps me see why I'm on this path of a creative life."
Brigitte Gleissner, creativity coach, Seattle, USA
www.brigittegleissner.com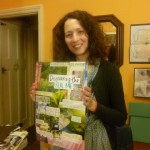 "I had a wonderful, relaxing evening, met interesting people, took pleasure in the process and gained confidence in creating something for myself with no pressure to have a perfect end result, just something that was about me. Thank you. (Not forgetting the bottomless cup of tea and cake). You were a thoughtful, inspiring host."
Janine Medway-Smith on her experience of the Life Collage Workshop
"I loved the creative space workshop!!! It was great to get down with some art materials and follow your instructions, although with blind anticipation. This led to really fun and creative art unfolding before our very eyes. I had to giggle inside at the hint of competitiveness of some of the ladies who wanted to hold on to their creation despite being instructed to pass it on for another hand. I was pleasantly surprised by my own creation which started out from a seed of thought about the fusion of thoughts and feelings that spiral into the cosmos when we share ourselves and let ourselves unfold naturally. I hope you are running another workshop of its kind soon… I think a lot of people (of both sexes) would love the opportunity and indeed need the opportunity to express themselves through the medium of art. Indeed with your lovely style in facilitation you must do more."
Mary Hurley, Dru Yoga teacher on her experience of the Creative Space Workshop
"Although I feel I am a creative person I hadn't done any art since childhood and was lacking in confidence.  Julia's 'Art from the Heart' workshop was relaxed and fun, with just the right amount of exercises, inspiration and opportunity to create on our own.  Her warm, friendly, non judgemental presence allowed me to really experiment with a variety of different materials and my confidence grew as the afternoon progressed.
The biggest thing I took away from this workshop is that the more we are willing to push aside our fears and perfectionism and just create, without worrying too much about the outcome, the more enjoyable our experience will be.  And that was definitely the outcome for me, and I would recommend Julia's workshops to anyone whatever their experience."
Sally Garfield on her experience of the ART from the HEART workshop.

"I'm working on my website and feeling in flow, I have a lot more clarity on it now.  I had the fear that it won't be right and your workshop (and your advice) helped me to see that if I just commit to something, and work on it with enthusiasm, it will evolve into 'the right thing'.  Just like a piece of art!"
Sally
"Can I say what I LOVE about coming along? Being in a small group of like-minded, creative, honest, brave, beautiful women who share, laugh and lift your soul. All whilst being connected to yourself and expressing yourself through art, without it being a perfect piece to frame but something purely for 'you'. You host naturally, beautifully and intelligently and I think this is a gift that I am grateful to have experienced in person."
Karen, participant in Kickstart Your Creativity course, October 2013.
"I have met a group of beautiful, intelligent women who are all unique in their own way but we connected and shared on so many levels. You girls have made me smile and giggle and so have you Julia with all your exercises but primarily you have helped me find myself again and I feel like I can achieve everything I want to now without feeling guilty! I wish you all the success you have so much to offer the world and so much passion and energy you are very inspirational and i have learnt so much!"
Rita, participant in Kickstart Your Creativity course, October 2013.
"It has been an amazing experience Julia. Going to not knowing quite to expect and a bit fearful to feeling so at home and relaxed and connected. I will truly miss these Wednesday but I'll keep forever in me what you made us see. I couldn't recommend it more."
Sarah, participant in Kickstart Your Creativity course, October 2013.
"THANK YOU Julia.!! You provided a lovely safe space and helped to create a forum for us to open up in a non-judgemental way. It is so therapeutic to truly open up with a group of like minded women who genuinely want to open their hearts to embrace their true self and expand it out to the world. It strips bare what makes each one us unique beings and helps us make a platform from which we can take that plunge into the obyss…… I highly recommend this journey to anyone who wants to explore what they are innately designed to do in this life and reach their true potential."
Mary, participant in Kickstart Your Creativity course, October 2013.
Click here for upcoming courses, group coaching, workshops and events and here for one to one coaching.