Creative Connections – Gratitude Jars
Wednesday January 10, 2018
8.00-10.30pm
"The thing we don't have enough of is we don't have enough connection – we're lonely – and we don't have enough time. And if people can offer us connection and meaning and a place where we can be our best selves, yes, we will seek that out. No, it probably doesn't help you build a big, profitable public company, but yes, it helps you make a better difference to the community that you have chosen to live in."
– Seth Godin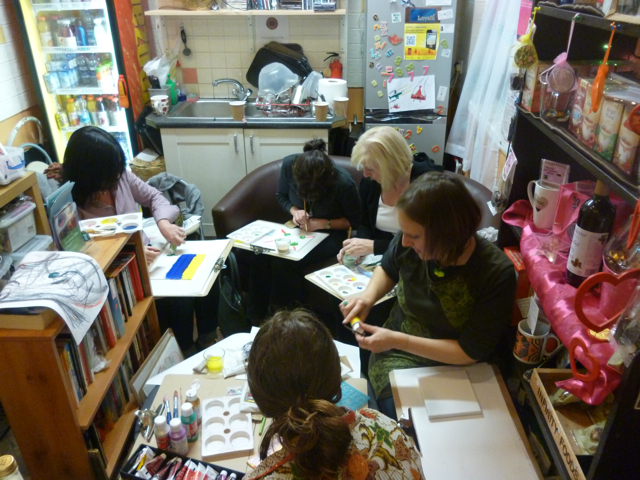 I have been feeling this lately… a deep desire for community and connection. When I first heard these words (spoken in an interview on Krista Tippett's podcast, On Being), they spoke directly to my heart and shone a light on the work I feel passionately about.
So many of us are always in a rush, passing each other by on the school run, a fleeting, "How are you?" thrown to the wind as we dash off to our next commitment. There seems to be so little time to stop and hear the answer, or really share how we are feeling. It is all too easy to lose ourselves and to lose our connection with each other as we put jobs and kids first and our own needs and desires second. It is time to do something just for you.
In all of the creative workshops I have run in the past few years, connection is one of the aspects people value the most. In talking about our ideas and our inspirations, our challenges and successes, we can deeper connect with those around us and I have long used creativity as a tool for conversation and connection in the work that I do.
A couple of years ago, I rented a studio space with a friend for a period of six months on Mondays. This was our time; our space. We showed up each week with a variety of materials and no particular idea of what we would create, but knowing that this was a little window in the week when we could be our best selves, free from all distractions, make art, drink tea and connect. It was bliss. We drew, we painted and we talked – deeply.
I know that you need time out too… time away from your busy daily routine; time to step back from responsibilities and commitments to others and do something just for you. I know that I am a calmer, happier Mum and more focused in my work when I have taken time out to recharge.
I want to offer you a place for you to come, create and connect. A space in which you can be your best self and find meaning. As this is a new idea – to open my home as a studio for the evening. This is your time and your space. There will be tea, coffee and materials you can use to draw and paint and make things.
I would ask that whilst you are here, you treat my home as your own – make tea, make friends, create. Leave judgement aside – only kind self-talk – there are no mistakes where art is concerned and this is your time to have fun and experiment. If you see someone making something you love, tell them. If you are interested in their techniques, ask them how they do it. If you have questions you want to bring to the evening, bring them. This is a time and a space for us… to share openly and learn from each other. Let's see what comes out of it.
This week we will be decorating Gratitude Jars – a place for you to gather wonderful gratitude notes of the many things that make you smile and feel grateful in 2018. You can then open the jar on New Year's Eve and enjoy those magical moments all over again!
£12 per person ( + jar at cost price – or bring your own). I only have as many spaces as I have dining room chairs, so click on the button below and be sure to use your primary email address or get in touch via the contact page for venue address.
The evening will be hosted at my home in Barnet, EN4.
To be sent information on forthcoming workshops, please subscribe to my newsletter.