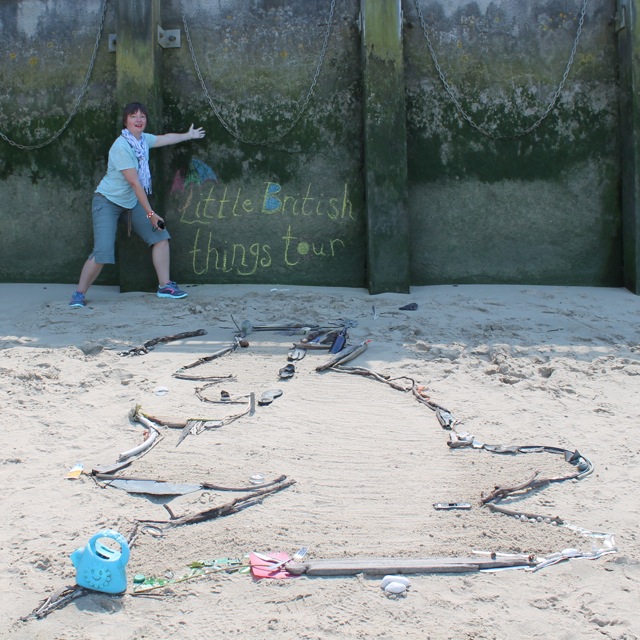 Think of Little British Things and fish and chips and ice cream in cones and other simple delights spring to mind. On May 13, a wonderful, adventurous friend of mine, Diane Leigh, took off on a tour of Britain, by road, boat and rail in search of these things that make Britain so… well, so British. Along the way, she heard stories and told tales and sampled local delights as part of her 80 day Little British Things tour, during which she raised funds for the RNLI.
On July 14, we met up on the beach with a mission… a little meeting that had been planned (though very loosely, as in, "we must meet on the beach and make art") for some time.
When you think of Britain's beaches, it is unlikely that you will think of London (unless you are a regular visitor to the South Bank at low tide)… but when the water is out, the Thames has plenty of sand and all manner of scavengers' delights… if only you know where to go. So, at 10.30am, we met up at the Royal Festival Hall and headed for the beach at the foot of the OXO Tower. Here, without a specific design in mind, we began gathering the raw materials to make our beach art. Driftwood and stones, shells and shoe soles, old brushes, bits of clay pipe, sea glass, a little plastic fish and some objects unknown were placed in piles ready to make a start.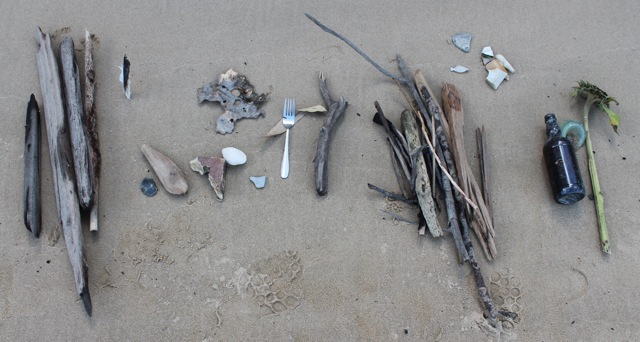 "Let's make a map", Diane suggested, so we started setting out the pieces in the shape of Britain. The tide soon turned inwards and as the piece began to take shape, we sorted by colour and design and a plastic watering can came to represent a tea pot and fragments of weathered glass and worn plastic were placed in groups to mark sea and countryside.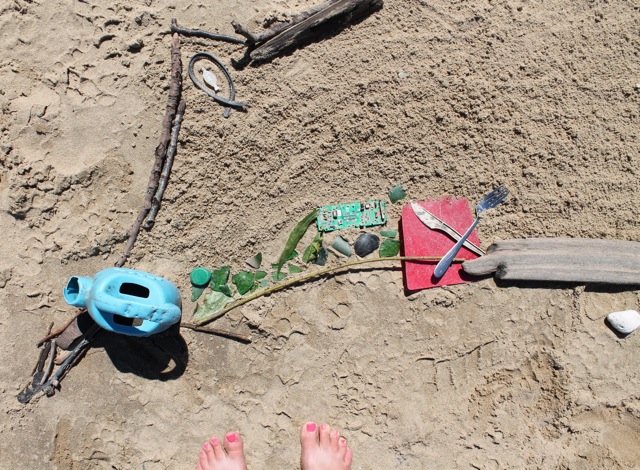 In the space of a couple of hours, our piece was almost complete and to finish it off, Diane scored the centre of the map with a fork we had found, leaving little lines along the land she had recently travelled, the shoe soles crossing the map as she had crossed the country. A couple came over, curious to find out what we were making and seemed keen to share their experiences of their own journeys as people who like to travel so often are. Then we walked up the stairs and we watched as a little boy strolled across our map from west coast to east coast and back again and we went for a sandwich, leaving the inbound waters to wash away our temporary art.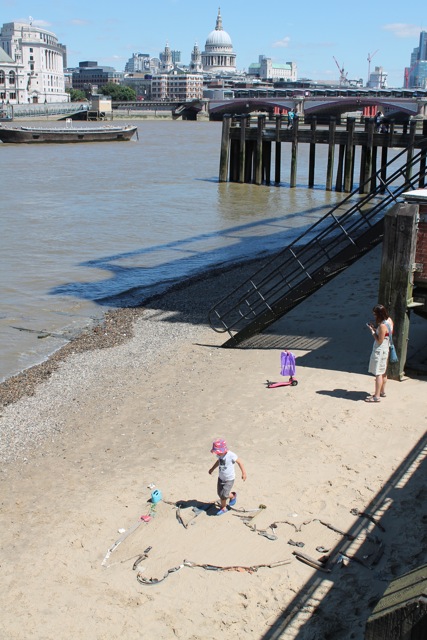 Inspiration is everywhere… keep your eyes open wide.
Adventures can be yours… make up your mind.
Create something form nothing… be willing to try.
Diane set a target of raising £1000 for the RNLI by the end of her current adventure. Yesterday, donations exceeded that amount. Tomorrow is the final day of her tour, so if you would like to donate to the cause, click here to make a difference.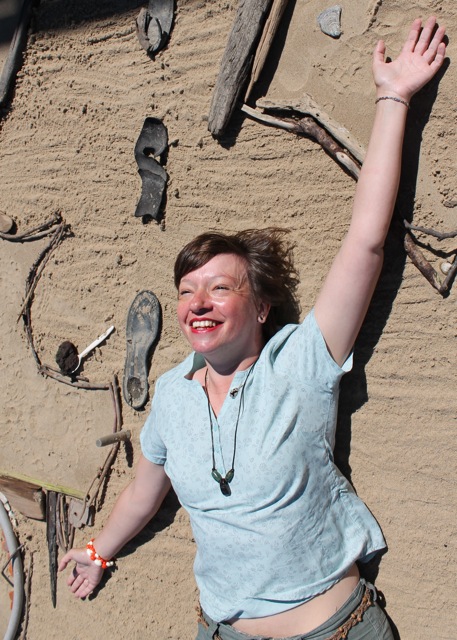 Let me know what Little British Things means to you.
Share the adventures you dream of.
What would you make if we went to the beach together?