The 30 Day Challenge concludes today.
The journey of those 30 days is documented here.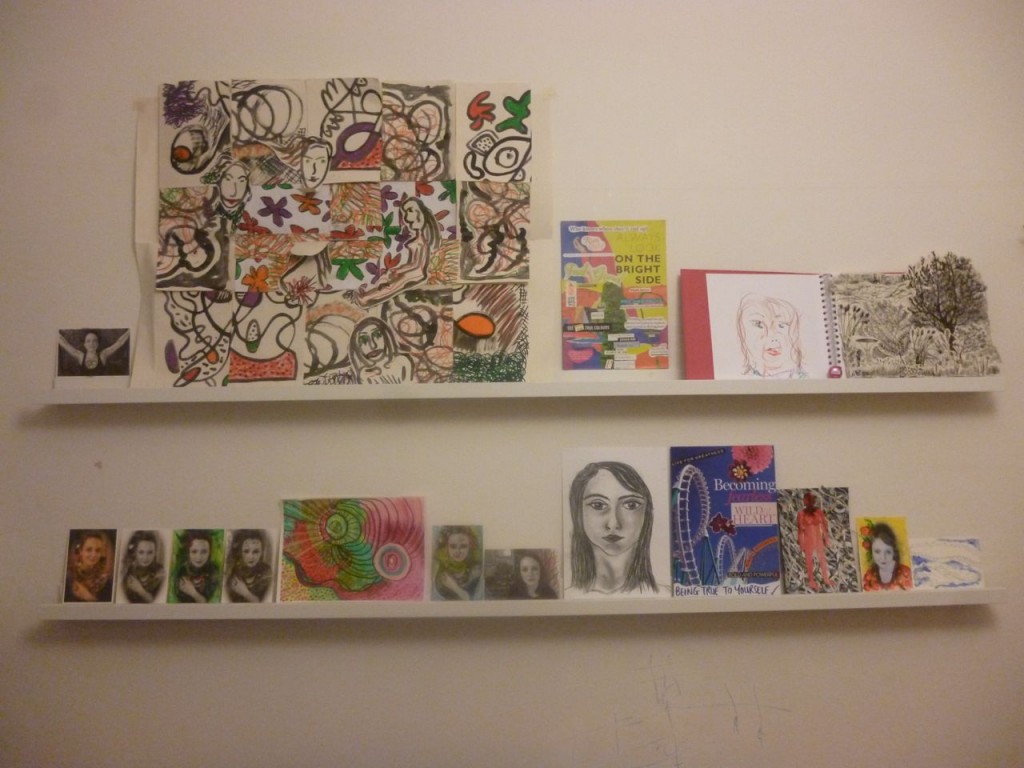 When I look at what I have created over this period of 30 days, I see me. I see an artist. I see colour, life and joy. And that is only half of it. What I see here does not include the hearts in the woods that will, by now, have shifted shape, maybe vanished entirely, but hopefully brought a smile to the faces of passers-by. It does not include the photographs of flowers and trees, my word pictures, my first video interview, my unfinished experiments or the painting I left out in the rain to see what happened. I notice, from what I do have here, that I spent roughly half my time making tangible works of art… and the rest was play, but in a different way.
As those of you who have been following or making this journey along with me will know, this past month has been one of transformation. I have broken down some of the barriers I had put up for myself over many years… fears of making bad art, fears of not living up to my own (often unreasonable) expectations, the pressure (put on by none other than me) to produce something good, something original, something worthwhile. I have been reminded of the great joy and sense of inner peace I used to experience from simply putting pen to paper, from letting words and images flow, from looking at the little details in life and in sharing.
I feel liberated and refreshed, invigorated and inspired.
And I feel lucky.
Lucky to have had this amazing experience… to have grasped an opportunity that was offered to me and to have been part of a safe and incredibly supportive community of people, each taking small steps to make big changes in their lives, spurring each other on, offering encouragement on difficult days and celebrating successes together.
And I am grateful.
Grateful to everyone who has taken the time to read these words, look at these pictures, share their thoughts here. I am grateful to all those who have offered advice and ideas. To Selina and John for creating the space to make such change to happen. Thank you. You have all made this experience such a pleasure.
This evening, I will earn my first playcheque, for inviting people into my home to make art with me. How amazing is that? To get paid to do what I love and share that joy with others. My desire is to inspire and I hope that those who attend the workshop this evening will take pleasure in expressing themselves visually and sharing that experience with others.
Creativity has, once again, become an intuitive and joyful expression of who I am.
Creative play is, after all, only natural. It is the one of the first activities we engage in as children and at that stage, it comes without thinking, it is all in the moment, all about exploring, learning, enjoying life. Surely this is something we all need to re-capture and re-live. Today, without thinking, I found myself singing, improvising with my small son… he led, I followed. I made little films of his innocent and amusing games, photographed his funny little experiments with food on his face, then handed him the camera to document the day in his own way.
What if each one of us took every available opportunity to play…?
What if, whenever we were sad or stuck, we tried to play our way out of the situation…? What if, when faced with a difficult decision or awkward situation, we played it out… thought to ourselves, "what would be the most fun way of dealing with this?" and tried that option out…?
My guess is that it may not work in every situation, but I do believe that in many, it would.
So, as the 30 Day Challenge draws to a close, rather than being an end, this was just the beginning… a little introduction, a prelude to what's to come… the start of a new, playful chapter in what I hope will become a long and adventurous story in which I hope you will also play a part.