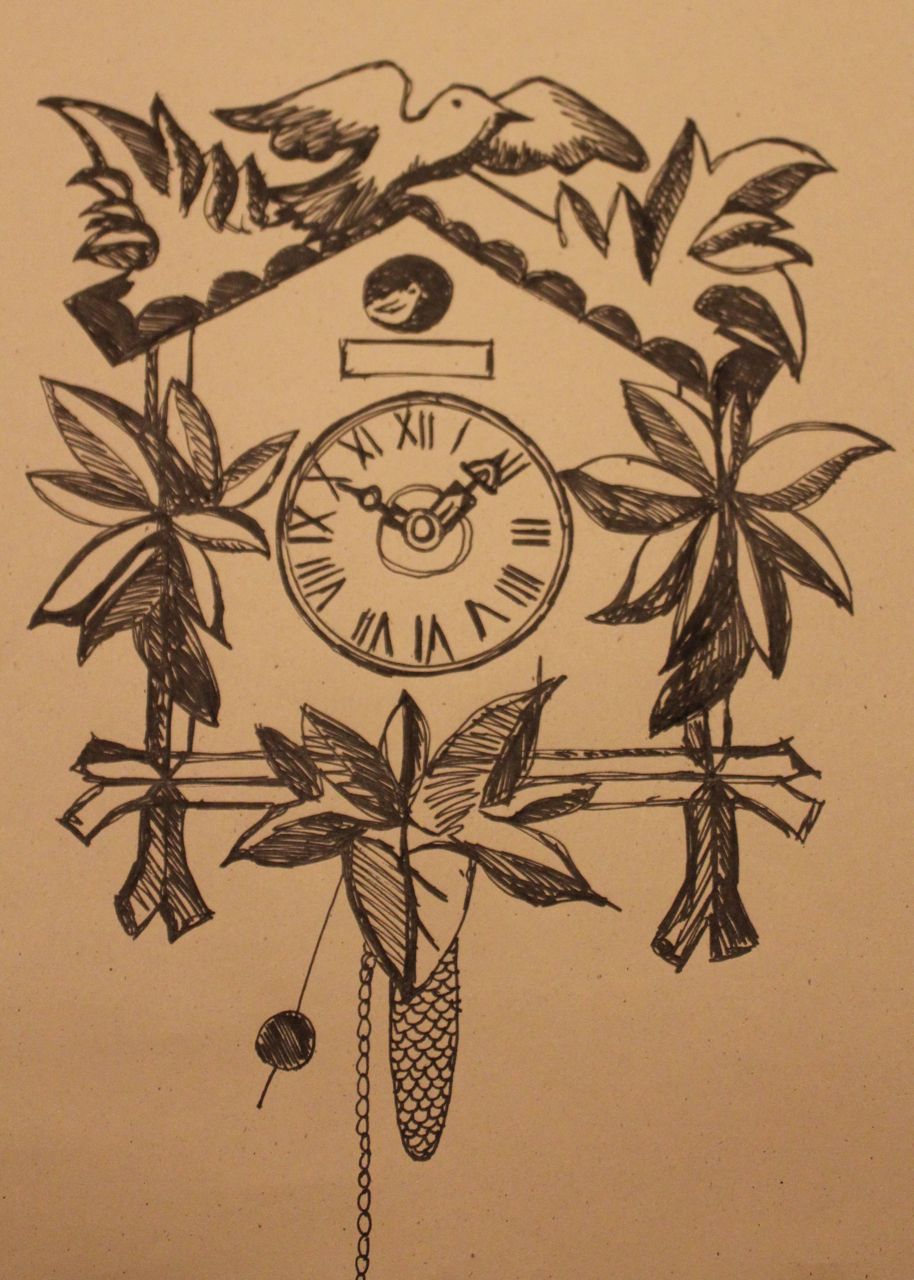 My small son, who is five, asked for a cuckoo clock for Christmas. At first, I was reluctant. I have never felt comfortable with the loud tick-tock of a clock and I was also uncertain about the sound of a small bird chirping four times every hour. Having researched various cuckoo clocks, finding that some sounded better than others and certain ones even had the facility to turn off the noise between certain hours, I decided it might not be a bad idea. It was not, after all, another piece of plastic tat made in China to be discarded on the bedroom floor or broken before Christmas Day ended. When the little box arrived, I opened it to find a beautiful carved wooden clock… the stuff memories are made of.
Now hanging up, on the living room wall, I find the gentle ticking soothing as the pendulum swings to and fro. The gentle cheep every quarter, night and day, is so sweet and subtle that even hearing it as I drift off to sleep brings a smile. It is also a reminder of the passing of time.
Several things have brought to my awareness how fast the days pass in the week just gone. On Sunday, I was invited to celebrate the 70th Birthday of John Maizels, Editor of Raw Vision, a magazine I have worked for on and off for 20 years now. John… 70? How could it be? I am now nearing the age John was when he first employed me. From the station, I picked up a friend, Wilfrid, who used to work beside me when the office was in what is now John's living room. I have fond memories of a lively night dancing at a Bollywood club in North London with Wilfrid. How we laughed. He is working full time as a sculptor, with a studio of his own and an exhibition of his art in London and as we stood in the room that was our office, lifting a glass to John, we talked of the passing of time.
The shocking shootings in Paris were a reminder as well… none of us knows how long we have on this earth. I can still vividly recall walking in the graveyard after my father's funeral, some 18 years back, sun streaming through trees, thinking make each day count.
The 30 Day Challenge, a course I have taken part in and worked on in recent years, brings together 200+ people from all round the world who are working on something that is meaningful to them. One of the keys to success that we recommend when working on such a project is micro blocking – breaking down tasks into small chunks of 15-20 minutes. I have found that the cuckoo clock reminds me, each time it sings, that another 15 minutes has just flown by and each time makes me think: what did I do that was meaningful or made me or someone else feel happy in that last 15 minutes?
Gratitude is a way of acknowledging the good in every day. It is my way of reflecting back on what made me smile or made me feel blessed. It is a simple way of turning sorrow into joy and fear into faith. It does not mean that I dismiss all that is bad, far from it. It means that each day (often just before I sleep), I choose to take notice of all that is good.
I feel that now, perhaps more than ever, we need to look to the good and acknowledge life's simple pleasures. We must celebrate the love and joy that exists and the opportunities before us to be grateful and to connect. How we experience each day is often down to our approach to it and sometimes the most rewarding option is not the easiest.
This morning I decided that I would set a date to run my Gratitude Daily course again. There are plenty of opportunities to explore your creativity. It will start again in 8 weeks and anyone who signs up this weekend will save £10. Something to look forward to. I would like to create a really positive vibe that leaks out onto the streets, over the internet and beyond. I often chalk my gratitude onto pavements and walls and post my gratitude list on Facebook page (and we also have a secret Facebook community for the duration of the course), so if we are not already Facebook friends, please seek me out and share your gratitude list.
I wish you a safe and happy weekend. I hope you are staying cosy and spending time with those you love. x