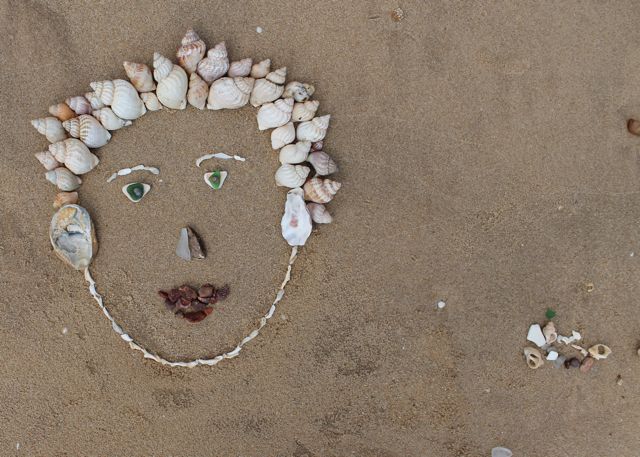 I am just back from a few days away in a caravan on the coast with my Mum and the boys. Aged 5 and 9, the boys are independent enough to want to do their own thing, but young and mischievous enough to require fairly constant supervision… even from a distance. I had not expected to get a lot of rest, but I had also not expected to be crashing out around 8pm (still fully clothed on a couple of occasions), and ready to sleep a full 12 hours. Yes, 12! The potent combination of sea air, seaside food, lively lads and days out left me wiped out. Another thing I had not quite expected was to squeeze in as much creativity as I did. I took every opportunity I could to make a little something by the sea with what nature provided or with the chalks I had made sure went into the car when I packed. A beach littered with shells and pebbles is creative heaven for me. I find it almost impossible to train my eye away from the ground whilst walking along such a beach. I have to remember to stop, sit and look around me… to take in the rhythm of the sea and the sight of the wide open sky rather than totally obsess about what's under my feet, afraid that I may miss any of nature's gorgeous gifts. My treasure-seeking radar in on high alert as I scan the sand for the perfect shell, the perfect stone… and so often so many of them really are perfect. Add to the mix those jewel-like pieces if sea-worn glass and I really am in beach-combing heaven. Deep pockets are a must on outings such as these. Then, when I have gathered my pocket or bagful, I embark on the act of making, though the hunt doesn't stop there… I often need a little piece of something else as the creative act ensues. I am always seeking new ways if expressing the creative freedom I re-discovered a couple of years ago and which I will be sharing over a period of three weeks in my upcoming course.
What's your idea of creative heaven?
How have you expressed your creative freedom this week?

If you need a little inspiration to get your creative mojo back, check out 21 Days of Creative Freedom which begins April 28. Don't miss your spot… sign up now!