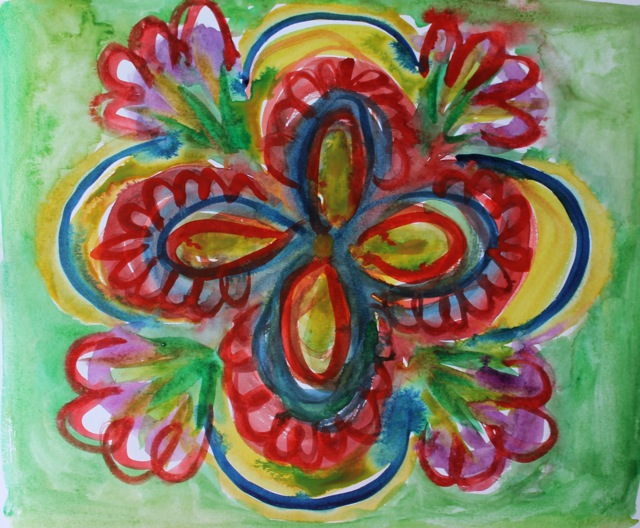 Last week I asked a simple question on my Facebook page: "What is your biggest block when it comes to making art?"
A flurry of responses ensued as friends answered and commented, acknowledging, discussing and reflecting on the fears and comments of others. My curiosity about the blocks other people experience stems from a desire to understand and overcome my own. There are days when I can paint freely, with little thought for outcome and others when, without even knowing it, I stand in my own way when it comes to making art.
Some of the most talented people I know responded that they didn't feel good enough or experienced, from time to time, a lack of self-worth. For most, it was a lack of time in the first place, but several people also mentioned an ebb and flow of energy and inspiration or enthusiasm, something which, it was also noted, did not correspond with available time. For many years, I had noticed a spike in ideas and creative energy that would occur at periods when I was tied up in other projects that allowed little time to make art. Then, as the projects came to an end and I had time free to make art once again, the energy and ideas were all gone and when I sat down to create, I was blocked. I recognised this as a pattern.
For many, myself included, a disconnect between the images we are able to create in our minds and on paper is a barrier. It was recognising this and moving through it that allowed me to make progress with my art. Abandoning any idea of what I was trying to achieve and allowing my art to just flow brought an enormous sense of freedom to my art-making. It was not quality, necessarily, that was an outcome of this, but it sure helped with the quantity of work I was producing. As I had no intention of exhibiting and was creating just for the joy of it, quality did not matter, but with practice comes learning and progress. I talked about letting myself off the hook last Summer.
So how do you focus on the process and not get hung up on the end result? Sometimes it can be a matter of "just" creating… of making art even (or especially) at times when we feel least like doing it. Part way through writing this post, I became aware that I had not painted for a few days and in spending time writing, I was choosing this over my art. I made a conscious decision, right then, to step away from the computer and paint. I set the alarm for ten minutes to see what I could create in that short space of time with no intention other than to put brush and paint to paper and let go. The image at the top of this post was the outcome. As I painted, I observed what was going in on my body and in my head. At first, I felt relaxed, happy that I was painting again, but just five minutes in, I was starting to feel tense as I became aware that I was judging my own creation and had to make a concerted effort to breathe through it and let go of an attachment to outcome again. "It does not matter what this looks like" I told myself, "I will share it anyway to illustrate my post and my point. I will paint through this feeling." As I painted through it, I allowed myself to feel the flow of the brush, to enjoy the colours, to paint regardless of my own thoughts or judgements. Ten minutes in, as the alarm went off, I decided to continue… not because I was happy with the outcome or because I was determined to improve it, but because I was in flow… I was painting and enjoying it.
Just starting can be a block in itself sometimes. The effort needed to gather the necessary materials and begin can seem too big. This was another point raised in the Facebook discussion. When I do make the effort to make art, I am rewarded more often than not, and I find myself asking, "why don't I do this more often?". The answer is to have your materials close at hand, so that starting is made easier.
Art is a form of self-expression. It is a way of connecting with ourselves. We can use art to unwind or to process the things we cannot put into words. Some use art to help focus and I have found myself, in recent weeks, doodling on a page as I listen to someone as I find it helps me concentrate. So why then do we feel guilty about making art as some of us do? We feel that there are other things we should be doing, or worry that others think we should be doing something else instead. Freedom of expression is vital to our health and well-being. You deserve to spend time doing things that nourish your mind, body and spirit. Art saves lives.
What can you do to overcome your blocks and shift the energy?
If art is important to you, make art.
Acknowledge and address your patterns.
Challenge your limiting beliefs; prove them wrong…
If you are afraid of the blank page, go pick up a newspaper and make art like Austin Kleon. If you think you don't have time, switch off the computer or put down your phone right now, go pick up a pen (biro, pencil, whatever, the tools are not important) and draw something (anything, even a doodle) in the next ten minutes. Go show someone. Ask them to do the same. Make art together.
How your art looks is not as important as how it makes you feel.
If art makes you feel good, you deserve to make art.
Please do share your thoughts, feelings, experiences and even your art below.
And if you need a creative kick start or a little bit of hand holding as you challenge those creative blocks, please check out my upcoming course.
With my love,
Julia x