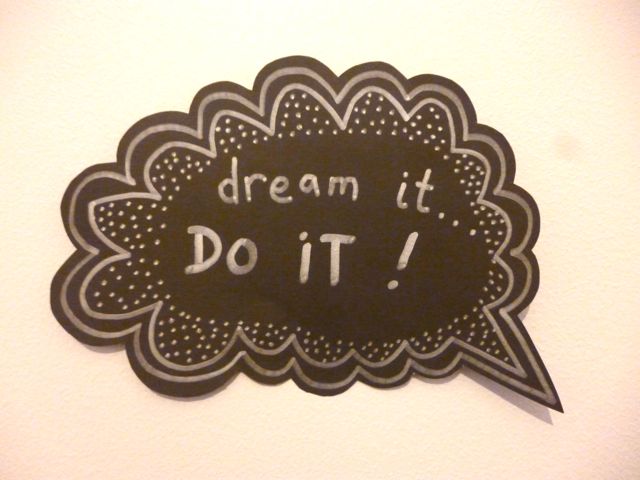 Do you have a little dream inside you?
Is there something you long to do, but actually doing it makes you feel too way vulnerable?
For me, one of the many little dreams I kept hidden was very simple… to make art on a regular basis, free from fear. I did a little, now and then, here and there, but it never felt very serious; I never thought I was any good; it always felt half-hearted.
Commitment is a powerful thing.
In this book The Scottish Himalaya Expedition, 1951, W. H. Murray writes,
'Until one is committed, there is hesitancy, the chance to draw back, always ineffectiveness concerning all acts of initiative and creation. There is one elementary truth, the ignorance of which kills countless ideas and splendid plans; that the moment one definitely commits oneself, then providence moves too.
All sorts of things occur to help one that would never otherwise have occurred. A whole stream of events issues from the decision raising in one's favor all manner of unforeseen events, meetings and material assistance which no one could have dreamed would have come their way.
I have learned a deep respect for one of Goethe's couplets: "Whatever you can do or dream you can, begin it. Boldness has genius, power and magic in it.
Begin it now!"'
I have found this to be so true! On May 1, 2012, I finally committed to what was important to me: my art. Since then, everything has changed. Opportunities have presented themselves; I have met some of the most amazing people who have supported, inspired and been supported and inspired by my projects and I have made countless connections with so many creative souls who I would never had encountered had I not made the commitment to my creativity.
If you are a regular visitor to this site, you will have heard me tell the story time and again, but all that you see here… all of my creative adventures, from my own art to the art clubs and workshops and courses I am now running to encourage others to follow their creative hearts… all of these things are a result of committing to my own little dream. All of the things I have learned along the way I am now sharing with others and supporting them as they follow their own creative paths. And I love it!
Now, I am proud to say that I follow my heart, create art and make money from my passions. The more ideas I play out, the more ideas flow and the more I learn. It's an ongoing journey. That's not to say that it's all easy, but then I like to be challenged and so I push my own boundaries and continue the cycle of following my heart, making my art, sharing what I learn, reflecting, adapting and playing it all out again, with a twist.
On June 1, I will be part of the team supporting over 200 people who are committing to their own little dreams and playing out the ideas that have been hidden for too long. John Williams, bestselling author of Screw Work Let's Play, and my very own mentor and business guru, Judith Morgan, will be leading the next 30 Day Challenge, sharing a wealth of knowledge gained from years of experience as entrepreneurs themselves. I mention this to you because, for me, this was the catalyst. 30DC was the point at which I truly committed to my little dream and not only re-discovered the creative freedom I felt in my teens, but also found a way to turn my passion into profit. You can do it too! Sign up for the 30DC with the link below and you too could find a way to make money doing something you love. https://fo124.infusionsoft.com/go/30DC/Julia/
Speaking from experience, I totally believe in this process.
So go on… take a look and take the leap. Then come back here and tell me all about that little dream you have kept hidden, but are ready to commit to. Come on in… find your tribe. I've got your back… I did it and I know you can too.
With love,
Julia x