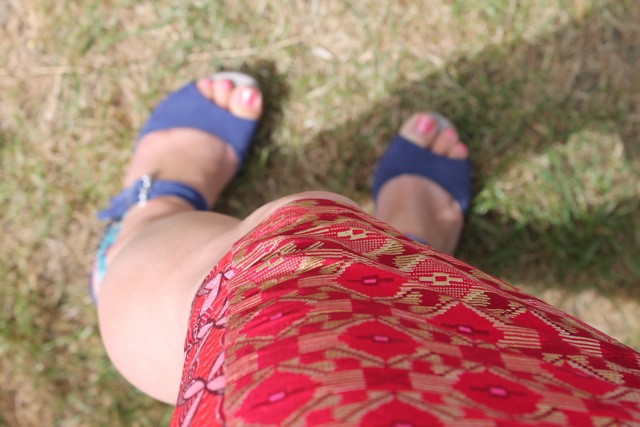 Last year, I was asked by my coach at the time what I did to invest in myself.
Her coaching was in lieu of help I had been giving on a project and I was hard pressed to remember a time when I had really invested in myself. I went to the hairdresser only when my mane became particularly unruly, had never had my nails done professionally and had not received a massage or other such treatment in at least 5 years. Paying for coaching or spending money on mentoring or personal development that involved anything more than spending a few quid on Amazon was totally off the radar.
How then, she enquired, did I expect other people to invest in me and my offerings?
This conversation came around the time that I was working on content for my online courses. It took a few months before her words of wisdom finally sunk in, but eventually they did. Still, investing in myself when I had little money to my name felt like an enormous leap. Nevertheless, I was keen to make substantial changes in my life and on the last day of last year, I signed up with my mentor, committing to one year of working together. I have not regretted it for one moment. I had faith that if I invested in myself, other people would also invest in me. One month and a day later, I ran my first online course, with more participants than I had imagined possible for a first outing.
My major learning in the past few months, guided by my mentor, has been around authenticity. How can I build a business in a way that's authentically me? The answer reflects back to the conversation with my coach around leading by example and living the life that I want to be living and sharing that authentic me… more joy, more gratitude, more creativity. So, here I am, six months in, blogging about my personal journey so far this year.
It may sound obvious, but I have noticed how, particularly as mothers, we too often neglect our own needs. We make sure our kids wear their coats on cold days, eat healthy, well balanced meals, go to bed early enough that they are well rested, attend clubs, see friends, but do you ever ask yourself what about me? I have lost count of the times I have left the house under-dressed or under-fed, stayed up way too late and neglected to spend time with my friends. Surely this too is behaviour we should be modelling… to care for (and speak to) ourselves as we would someone we love.
These past few weeks, I have been living more authentically. I am addressing my own needs and if I want to do something because it excites me and pushes me a little (such as horse riding), I will do it, knowing it will benefit me. I have invested in support to move through difficult issues. I have invested in a couple of items of clothing that my (self-designated) budget would not previously have stretched to. I dress up to stand out, not to fit in. I had my hair done before it got to the desperate stage; have taken time to clarify my feelings on certain subjects, allowed myself to really feel them and spoken my mind. I am finding my voice in more ways than one.
In finding my voice and being true to myself, I find that I have more to share and new ways of connecting. I feel more me. All of this comes from the more conscious, authentic living that I am working on. The knock on effect is that more people see what I am doing, are encouraged to consider making their own changes and subscriptions are increasing steadily. This keeps me going on my creative path and the more I commit to my path, the more I feel I want to share. I can feel it all growing… the business, the authenticity, the energy.
Other surprising things are happening; more opportunities are opening up day by day. So it is when you commit to your path and allow yourself to be open to change. The more I do of the things that excite me and bring joy to my life, the clearer I get about the path I want to follow and the closer I get to it day by day. What you focus on grows and in being grateful for all of the joys in my life already, there is more to be grateful for every day.
If you could do anything, how would you invest in yourself?
What single, small change can you make today from which you will benefit?
If there is any part of yourself that you are hiding, or if you feel that you have lost your way, think back to when you felt most you and most happy.
What can you do today to live more authentically?
Leave a comment below and tell me.
With my love,
Julia x