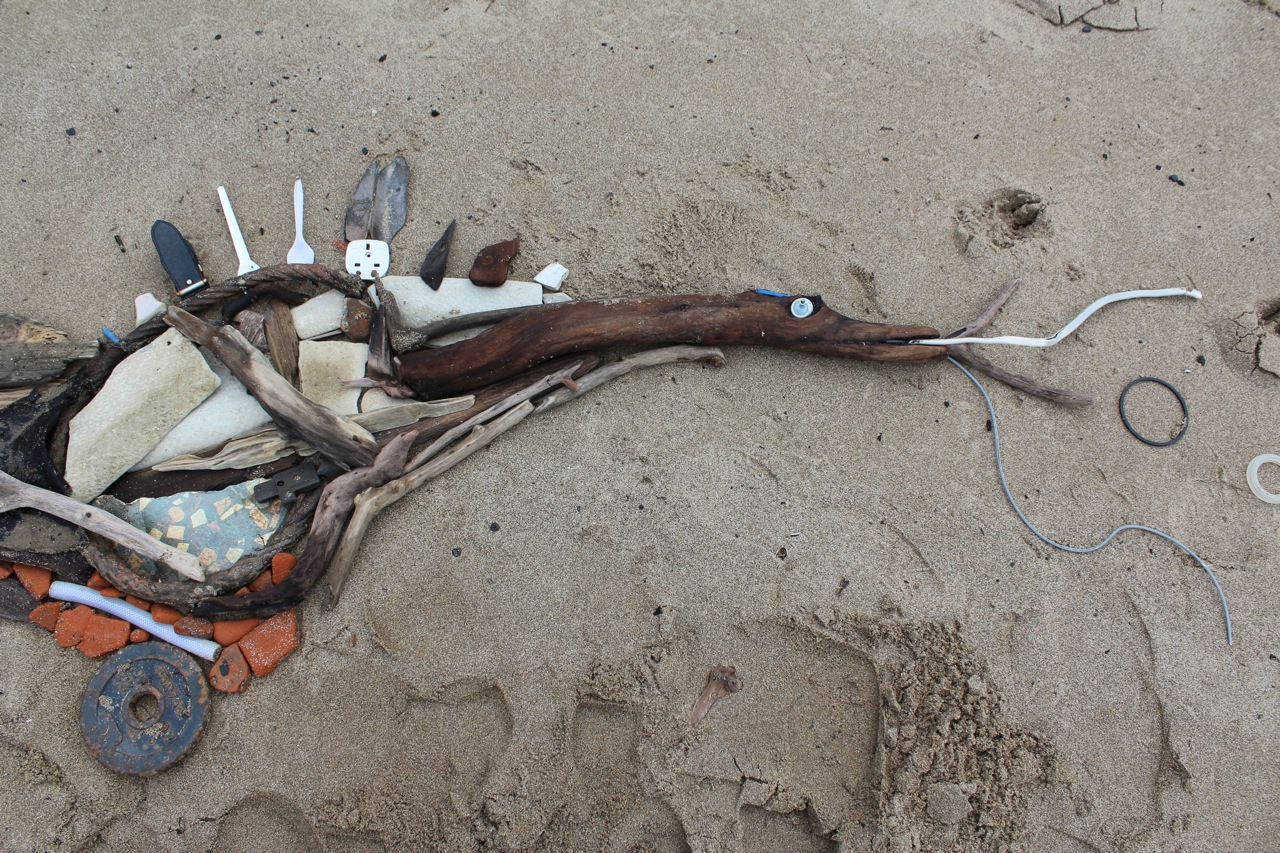 New Year started well. I felt productive; inspired; I was raring to go. A lot was achieved in a short space of time and then, a few days go, I felt my foot on the brake. I cannot say why, just that I wasn't feeling it on Monday morning when I went to check in with my weekly mentoring group. My list of achievements for half term didn't amount to much and I just couldn't come up with a list of what I would like achieve in the week ahead. So, I was honest. I checked in saying that I did not feel like working on my business this week and all I wanted to do was retreat into art. I wanted to get lost in doing what I love. Permission was given.
Today, I allowed myself to get lost in creating the mythical beast of a One Wheeled Thames Serpent from found objects on one of London's South Bank beaches. I wandered the shoreline, gathered some bits, wondered what I would make from them, then just one piece spoke to me… a smooth piece of wood with the face and I was off… I knew what my piece would become.
It felt so good to be immersed in the thing I love doing most… making art.
In working on a business and ploughing onward with the things we think we are meant to be doing, it can be so easy to slip away from doing what we love… and that is often the very thing that led us to create our business in the first place… the fire at the heart of what we do. It is vital to reconnect with that once in a while, if not on a daily or weekly basis. So today, I am writing this to give you permission… Do what you love.
Sometimes you just need to do what you need to do. Today, for me it was art. And in doing what you love, something is freed up. You are led back to you… the you at the heart of your business… the you you have strayed from in trying to think your way out of things or working too hard.
Leo Babauta's article today spoke to me too… he talks about mindful immersion, have a read if you like: http://zenhabits.net/lost/
Then go; go now… go lose yourself in doing something you love.
And if you feel like it when you're done, check back in here later and let me know what you found.