There has not been a great deal of time to write these past few days. Sickness in the house has allowed little time to think with the clarity required to finish a paragraph. Big boy was quietly ill, spending most of his sick-time reclining under a blanket on the sofa before bouncing back the next day, full of beans, raring to go… just as small boy became lethargic and ill. Small feverish boy has been (and continues to be) rather vocal, poor chap, so my bursts of creativity have been punctuated by cries for cuddles (which of course I don't refuse), and doses of medicine. I have managed to be surprisingly productive with with the art though. Perhaps these little interruptions mean that by the time I get back to the job in hand, I too am raring to go, keen to get on and create, having been dragged away and then returning by choice, rather than succumbing to the usual distractions that prevent me from focusing for long.
Whatever it is that is happening with my art, I am enjoying it. I have been trying to create whilst the boys are around, get them involved if possible, rather than waiting until they are tucked up in bed before I pick up my tools and begin. Yesterday, with big boy back at school, small boy and I did some "scissoring", as he likes to call it. I had painted some large sheets of paper whilst he was sleeping, then cut petals from these and magazine pages of a similar colour, before forming them into paper flowers which reminded me of things my grandmother used to make as Christmas decorations. Memories of borrowing her pinking shears, a.k.a. "angry scissors", to snip jagged lines into cloth and paper, came flooding back as I saw small boy's pleasure at snipping alongside me. After a little while, he gave in to the fever and requested I cut a little cat from an advertisement in one of the magazines, to sit alongside him whilst he rested. He and the cat sat happily for a while, watching and chatting as I worked, the cut-out-cat on a small cushion, before disappearing temporarily, down a gap in the sofa, only to be noticed missing and retrieved some while later, slightly crumpled, but still intact. It was at this point that he went to live on the window ledge.
The flowers formed the beginning of another collage piece which is still in progress, but can be seen here in its current state.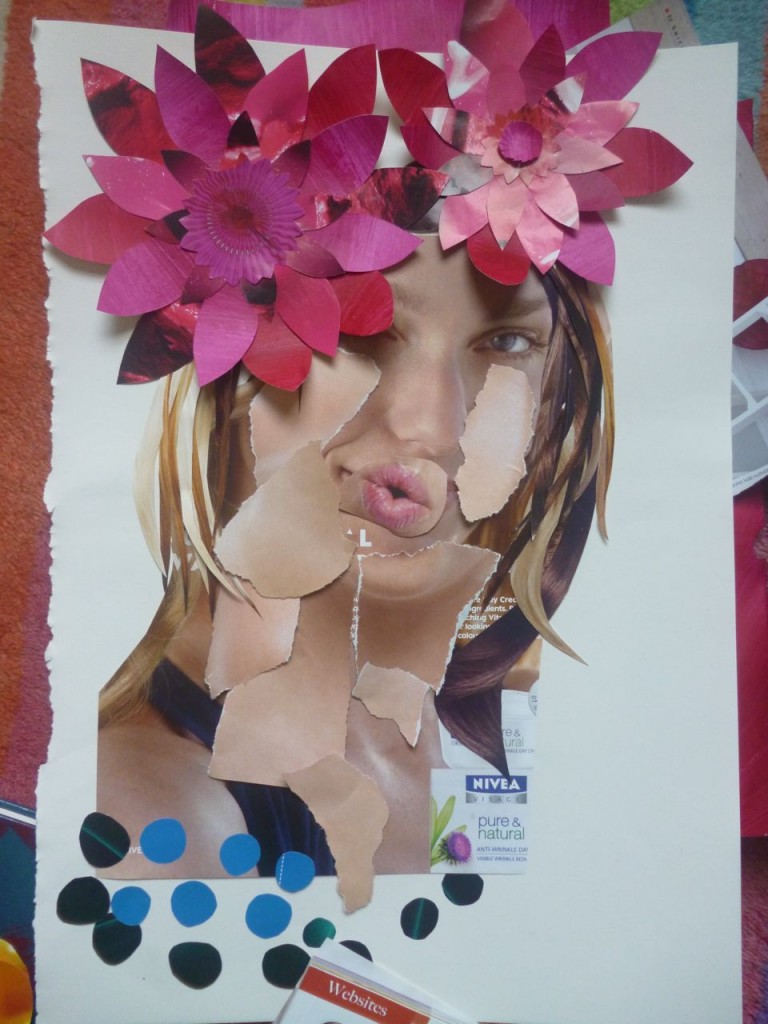 This afternoon, I took some paints into the garden for both small boy and myself, hoping that he would paint alongside me. He found the movement of his paper in the breeze rather too frustrating, so we returned indoors and sat at the table to work on our individual projects. I had given him a selection of paints on a plate, and a handful of cotton buds to try instead of brushes. He loved dipping and dabbing, and produced a rather lovely dotty work in blue, green, yellow and pink. As he was using both ends of the cotton buds, his fingers had also become painted, so he added some finger dots, then hand-prints to the piece you can see here, below.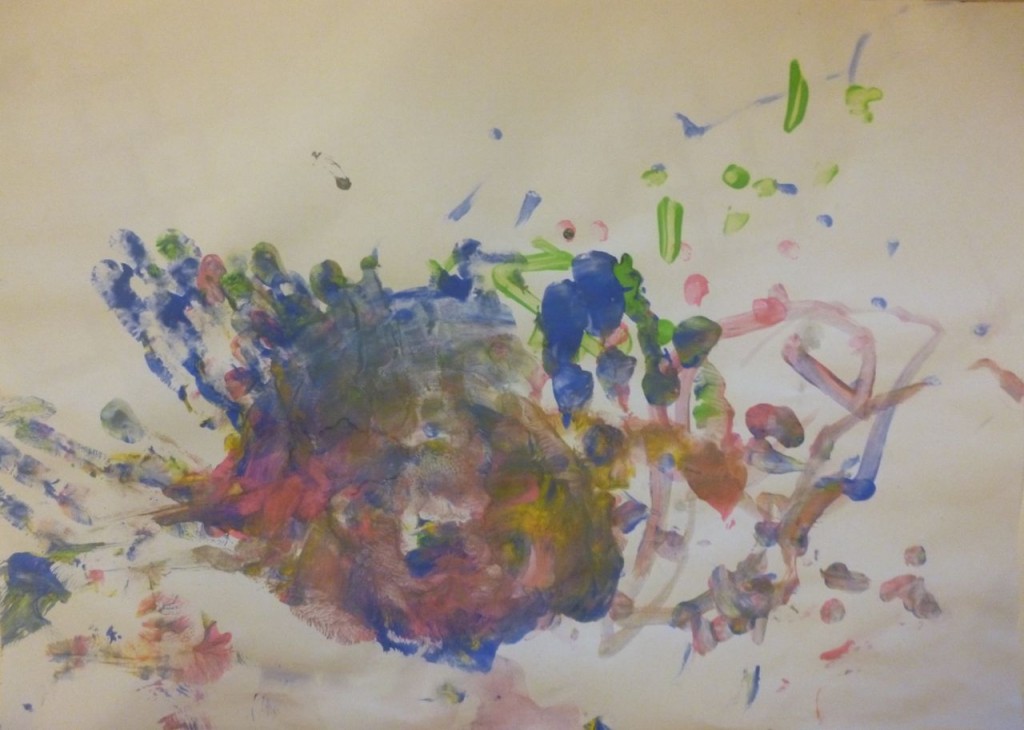 Meanwhile, I completed a new little self-portrait in watercolour which I had begun last night, but had put on hold to answer a call from small boy upstairs which became a cuddle and a  sleep and when I woke up, work unfinished at 5am, I was still wearing the red dress I had been painting.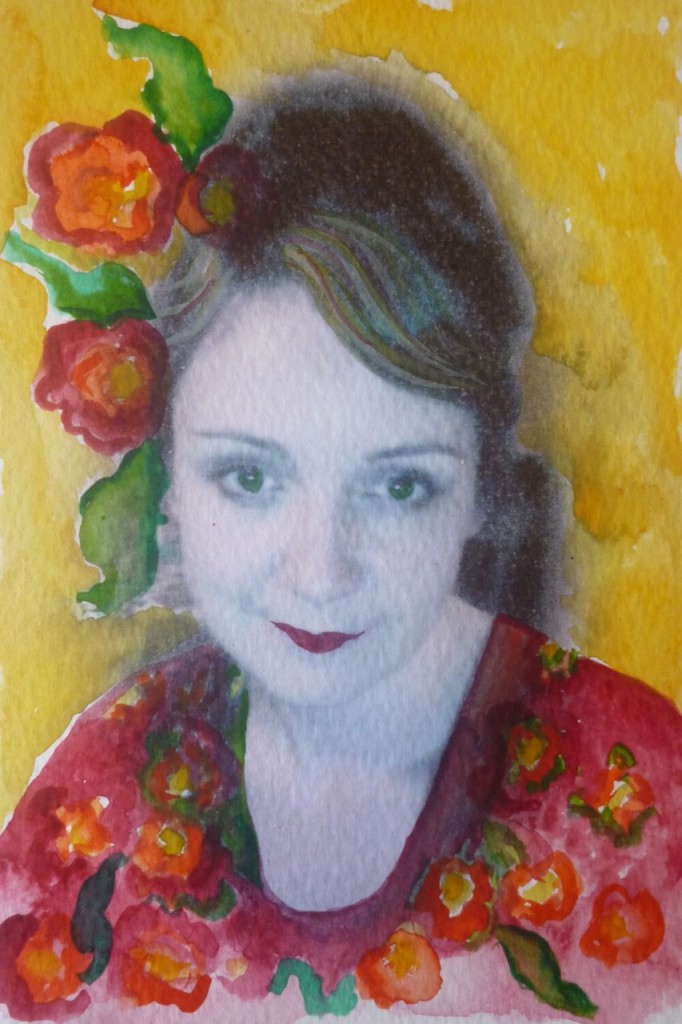 I feel I am on a roll today. I would like to continue painting long into the night, but common sense is telling me not to, that sleep is more important and that little and often is good. This time, I am listening.
But first, I must seek out the gorgeous little black and gold buttons, purchased in a vide grenier in rural France several years ago, which I squirreled away somewhere, until I could find a good use for them. This afternoon, I purchased the perfect cardigan for these little gems. Now, all I have to do is locate that safe place I put them in…